What do we mean by electromagnetic radiation?
pedion24
2020-07-06T16:03:48+00:00
These are oscillations of electric and magnetic fields that propagate as waves at the speed of light. Our electromagnetic radiation is known in the natural and artificial environment in various forms. Infrared radiation, visible light, ultraviolet radiation, X-rays are part of the electromagnetic spectrum as well as radio and television frequencies, microwaves and the electric and magnetic fields of the electric railway and power lines. As for the radiation of mobile telephony, it is the electromagnetic radiation in the frequency range 900 MHz and 1800 MHz. From a physical point of view, these different radiations are different in their frequency and their energy .
Based on in their frequency The emitted radiation is divided into "non-ionizing" and "ionizing".
The ionizing radiation is characterized by very high emission frequencies and has the property of causing ionization of atoms (i.e. to expel an electron from an atom). For this reason ionizing radiation can cause damage to cells, tissues and more generally to biological organisms. Examples of ionizing radiation are X-rays and C-rays emitted by radioactive materials. Non ionizing radiation does not cause ionization of atoms. Examples of non-ionizing radiation are visible light, ultraviolet radiation, infrared light, radio waves and microwaves. Emissions from radio, television, mobile telephony, satellite systems and radar antennas, ie the total electromagnetic radiation of radio frequencies is Non ionizing radiation. The following figure shows the electromagnetic spectrum: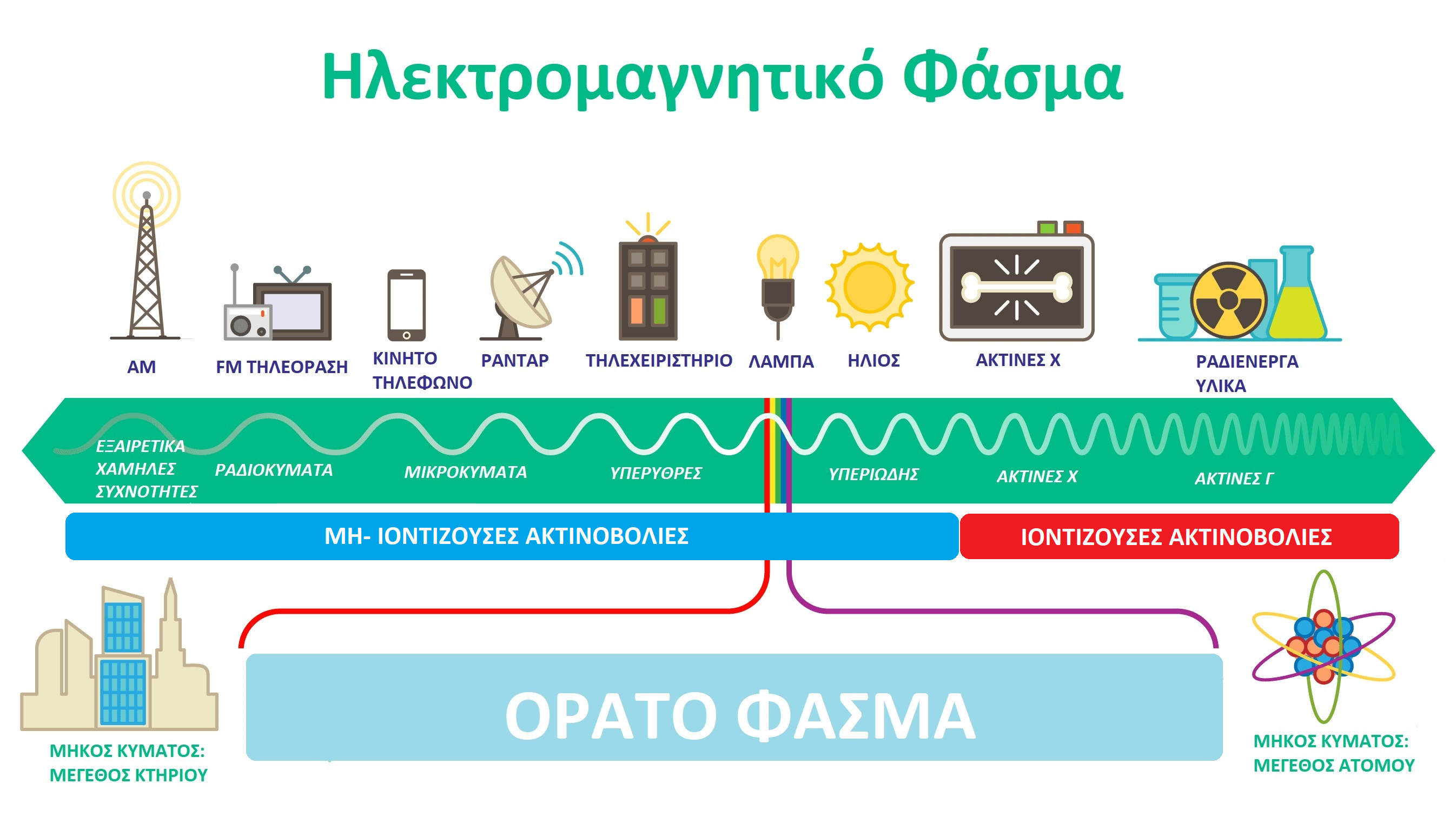 In relation to the energy they carry, electromagnetic waves can be described by the following quantities:
- Electric field strength E (unit of measurement: Volts per meter - V/m)
- Magnetic field strength H (unit of measurement: Ampere per meter - A/m)
- Power Flow Density S (unit of measurement: Watt per square meter - W/m2)
In the radio frequency range the basic quantity that characterizes electromagnetic fields is Electric Field Intensity which is recorded under the program PEDION 24  .